April 9, 2010
When we last left off, Nate and the project room were neck and neck. Over the last few days, we've definitely pulled ahead. Another coat of adhesive remover and a power scraper took care of the last stubborn remnants of vinyl. A little patching with some Portland Cement and the floor was basically prepped.
Next on our list was to paint the walls and floor. The paint treatment on the walls was pretty basic, but the floors got the works.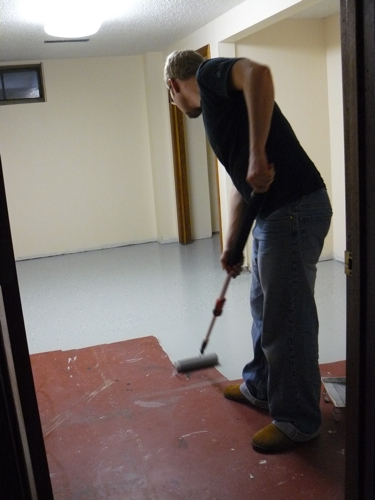 Ta dah! No more bleeding eyeballs!
And for the finishing touch, we installed new white outlets and rubber baseboard.
FYI, if you plan on installing rubber baseboard, it might be a good idea to find a brand that also sells corner pieces. I may or may not have posted this close-cropped picture of a straight section of wall for a reason. Lets just say my hot glue gun (recommended) might be needed to fix a few trouble spots.
Our week of "vacation" is almost over, but we've accomplished a lot. I've got a couple days to get the project room put back together and restore the rest of the basement to its usual fabulous-ness. Project room: 2 points (I gave it another one for the botched baseboard), Nate and Liz: 10,000 points (just because I can). We win.