January 2, 2011
A couple weeks ago, I bought a chair and (nearly, but not quite) matching loveseat at the same Surplus Sale where we bought 55 keyboards for the infamous bartop. Nate is really gung ho with the woodworking so I figure I better learn upholstery before he gets around to building us couches and chairs. This chair was cheap, smallish, and somewhat simple looking (or so I thought), so I figured it would be a great candidate for my very first upholstery project.
Here is the chair in its "Before" state.
.
And here is the chair in its natural habitat (post-Christmas mess and all). I'm only sharing this because I'm confident that this view of the living room is going to improve dramatically over the next couple months.
.
Let's hope Natasha likes the end result just as much. At the very least, it will have a plumper cushion.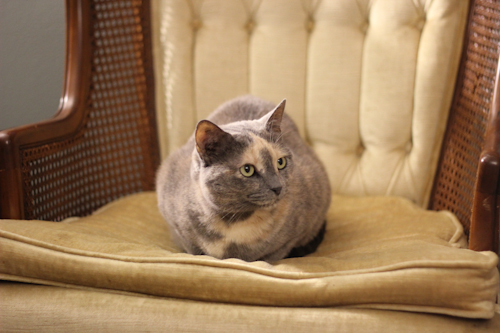 .
This is the new fabric we chose for the chair. I had originally intended to find a yellowish-greenish pattern since I like this "original" color so much next to the wall color. But the store we went to didn't have a huge selection and we weren't feeling patient enough to order something. Nonetheless, I'm happy with our hasty decision.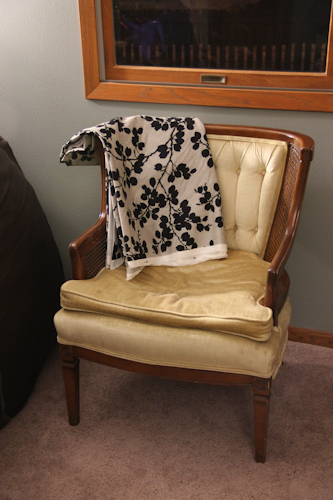 .
Uh oh. We're in the garage now. I smell doom and destruction. Oh wait, thats just the shellac fumes from Nate working on the bookcase that will also go in the living room.
.
A few alternate views: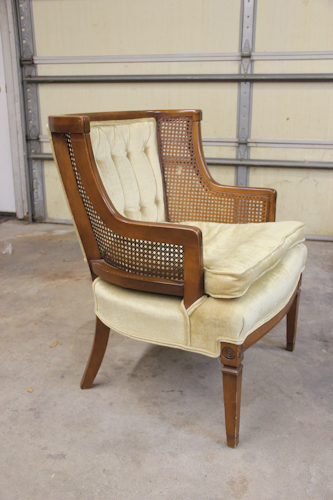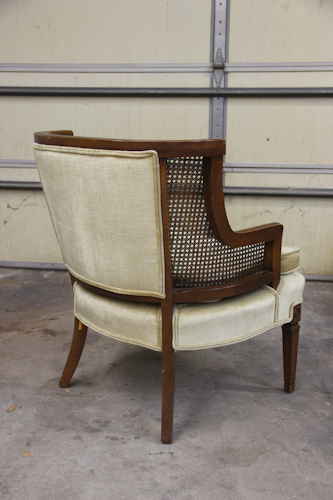 .
And the "Property of ISU" sticker that adorns so many items in our home. We go to the Surplus Sale a lot.
.
All right. Time to get to work.
.
Next time I'll get real staple-pulling tools.
.
Hey look! There's some green under there.
.
Two miserable staple-pulling hours later, I remembered to  grab the camera again.
.
If this is what it takes to get buttons on the seat back, my finished product will not have buttons.
.
I count at least 11 staples holding that string. I know I'm new at this, but that seems a bit excessive, right?
.
Eventually I got the chair completely stripped down.
.
Then I spent several more hours sanding it. Can you tell that I started at the bottom and ran out of both patience and sandpaper as I made my way to the top?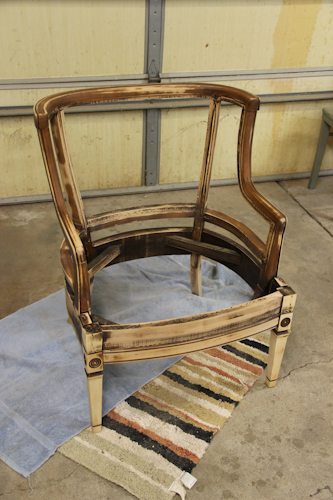 .
Our vacation is officially over as of tomorrow morning. We might not have checked everything off of our to do list for this week, but we definitely accomplished a lot. Especially considering our time off was flanked by holiday weekends. My chair project is moving along, the  new bookcase is in the living room (minus the shelves), progress is being made on wedding thank you notes, and a full carload of stuff was taken to Goodwill. Not bad, eh?