April 26, 2011
Not intentionally, of course. We just hadn't gotten around to telling you yet. Here's a hint: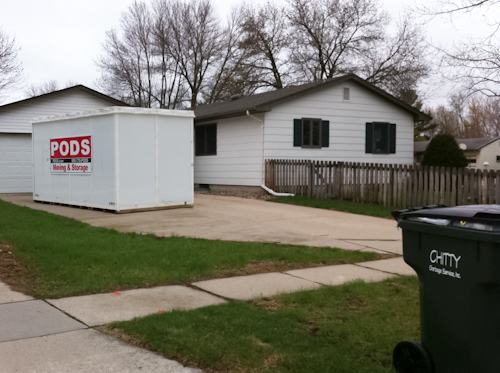 In case that isn't obvious enough (or if you were just distracted by the trash can bearing the best family name for a garbage service ever), that huge crooked POD in our driveway means we're moving.
As much as we love our house, we've known for awhile that it wasn't cut out to be our forever home. Besides, we had so much fun redoing the basement in this house that we're sorta itching to do it again 😉 Â Actually, Nate found a new job near Jordan Creek, which is about an hour south of our house in Ames. So that seemed like a good excuse to look for a new house about 30ish minutes south of Ames. Then we'd both have a fairly equal, reasonable commute (the new house is more like 45 minutes south of Ames, but who's counting?).
So we decided to start casually looking for a new home, fully expecting the search to last all summer and well into the fall. We had a few pretty specific items on our wish list and I'm still haunted by the experience of my parents taking 10+ years to find a house (haunted is actually much too strong a word, I really loved visiting Open Houses with my dad nearly every Sunday growing up and I was pretty excited to experience that with Nate). Thats why I can honestly say we were surprised when we fell in love on our second day of open houses. It fits most of our criteria, including one of the most important items: a 2 car garage IN ADDITION to a large workshop for Nate and studio for me. That means I'll get to park my car in the garage all year instead of just when it snows! And it won't be covered in saw dust! Yay! The house is old enough that there are plenty of rooms ripe for a remodel, but new enough that we don't need to worry about updating the electric, plumbing, insulation, etc. (aka the expensive and not-fun stuff). It was actually built in 1983, the year I was born. Another fun fact: its next door to the house where my best friend in elementary school, Lauren, lived. Her family has since moved to a new neighborhood though. Does that make us next-door-neighbors-once-removed?
The big move will happen mid-May. In the meantime, Nate and I are packing the POD, tackling some never-quite-finished projects, and cleaning the whole house from top to bottom so we can get it on the market ASAP (anyone interested?). We're also spending plenty of time in our beloved basement, soaking up movies on the 8 foot projector screen and caressing our infamous bar, since we won't have a place for either in the new house (don't worry, although bar stays, the bar top will be staying in the "family"). Given the outrageous amount of stuff we have to move *cough -Nate's workshop- cough* a few shots at the bar might also be in order.
Be sure to click on the picture for maximum viewing horror.
Rather than ending with a photo that may give you nightmares and me panic attacks, I'll leave you a happier picture. Just look at us; 4 years younger, one of us a little less hairy, taking a proper photo for our Facebook invite to our housewarming party, and totally unaware that said housewarming party would involve "bobbing for beers" in our kitchen and a mysterious turd left on our utility room floor. Good times. Good house.